Wednesday 14th October 2009
All New Cima Racing Blog - supported by Invent Partners
Over the past two weeks, Invent Partners have been working on a new design for the Cima Racing blog.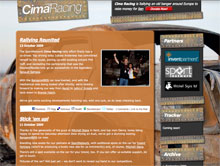 Cima Racing are currently preparing a car for the the "Bangers4BEN" racing event later this year. Last month, Invent Partners offered to help Cima Racing with their website, and yesterday we launched the new look blog at http://www.cimanet.co.uk/cimaracing/blog/
Cima Racing are keeping their cards close to the chest right now (we don't want to give the competition any unfair advantages do we?) However, we're looking forward to seeing the Invent Partners logo on the all new Bangers4BEN competition car in the coming few days.
To tell you the truth, we're also hoping for an invite to a possible forthcoming test outing for the new car. If we do get an invite, we'll be sure post the photos right here on our news pages.
In the meantime, anybody wishing to support Bangers4BEN can make a donation to the team here: http://www.cimanet.co.uk/cimaracing/blog/
" Just wanted to send a quick 'thank you' to the Invent Partners team for all your help and support. I love the design of our new site and really appreciate the great service you provided at every stage - you turned a daunting project into one that I really enjoyed! Thanks again. "
Lou, Advanced Writing Solutions